YourShift Reports
Reports
System Reports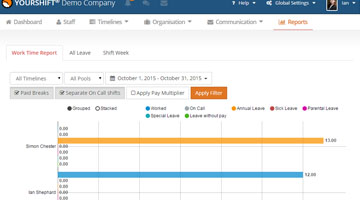 Reports are a major part of getting your staffing data into a usable format for payroll systems or just giving a visual overview over a specific period of time. Each report can be customised to include paid breaks, on-call shifts, bonus time (time and a half for example), leave, and view over a specified stretch of time.
Depending on the report that is being used, the interface can change dramatically to better display the associated data.
Work Time Report
This report was designed to give an overview of paid hours completed over a time period. It is specifically formatted to help feed straight into payroll and payment systems and provides visual graphs to help illustrate the amount of work completed by every staff member and the amount of time marked as leave.
Leave Report
The leave report is a collection of all leave requests filed along with their outcomes. It also displays unapproved leave requests and allows the management of these directly from the report itself.
Shift Week
This report is designed to give a print friendly version of the Timeline in a week format. Showing who is working what shift hours during the specified week.