YourShift Messaging
Messaging
System Messaging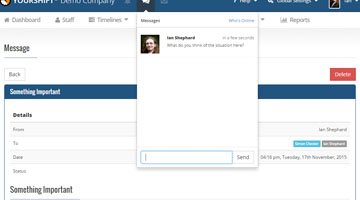 Keeping communication flowing between yourself, your staff and each other is key to being able to manage them successfully. YourShift has a collection of tools that help with this by providing a real-time chat interface that is completely device independent and a feed styled messaging service.
Real-time Chat
Having access to the real-time chat at any point inside YourShift allows your staff to quickly communicate with each other even if they are not at the office. Because YourShift is a cloud (or internet) based service staff can chat from any internet enabled device located anywhere in the world.
Messaging
YourShift messaging allows your staff to stay in contact with one another in a similar way to email. There are a few advantages of this over traditional email communication.
The first is that it acts like a feed, which means that all message replys are placed one under the other in chronological order. This becomes very handy when the messages are addressed to more than one person as it keeps a clear flow of conversation and information visible to the user.
It also has the ability to tell the staff who has viewed their message, who has replied and who is ignoring it. This is great for announcements where you need to make sure all staff have read the message.