YourShift Diary
Diary
Company or Organisation Diary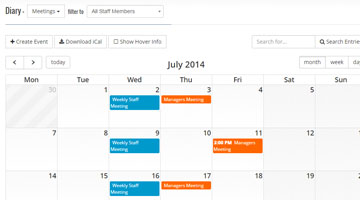 One important part of managing staff is juggling when particular events or meeting will take place and who is supposed to attend. The YourShift diary will be a very useful tool to help manage that exact problem.
Using an incredibly easy to use calendar based interface, you can set up as many diaries to manage your events as your organisation requires, and limit access to them using the YourShift permission system.
Each diary can be exported to most popular managers such as Outlook, GMail and even mobile apps on iOS and Android.
Events
Each created event can contain a number of pieces of information. As well as the standard title, start and end time, it also allows you to enter a more detailed description, the type of event that is being created (which has associated colours) and even staff to assign to the event.
Those staff will then be notified of the event through the configured contact mediums set up in their profiles.
Each event can also have corresponding notes added by staff members with the permission to do so, and the ability to lock an event to prevent any more information being altered.